I posted a bunch of photos below. There are lots more
here
.
Here's what we did:
Thursday morning we (Brian, myself, Tommy, Grandma, and Auntie Louie) started out for a scenic drive across Vermont and into the White Mountains of New Hampshire. It was a spitting rain when we left, but by the time we made it half way through the trip the skies had cleared. We stayed at a little hotel called the
Mt. Madison
in Gorham. It looked quite a bit different from the picture (smaller), but all that mattered to us was that the rooms were clean and there was a (heated outdoor) pool. We went swimming almost every day, which was a must after coming in from a day in scorching summer heat. -And in case you don't already know, Tommy
loves
swimming.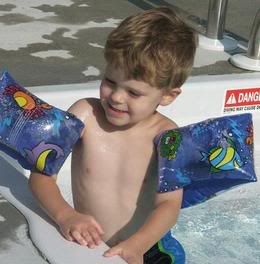 Friday was our
Day Out With Thomas
at
Conway Scenic Railroad
. It was as terrific as, if not better than, we expected. The ride on Thomas' coaches lasted about 25 minutes (one ride per ticket), and there was a new ride every hour or so. There were many coaches, and they were all packed. In addition there were just as many families outside taking pictures with Sir Topham Hatt, the lego Thomas, and playing with trains. We didn't do all of the activities because we could only take so much heat, but we were there for most of the day. My favorite part was seeing
so many
kids, all with their Thomas shirts and hats. You could see the excitement in their eyes. -It was a very happy place!

After seeing Thomas we had lunch and iced lemonade a little nearby cafe and then headed across the street to
Zeb's General Store
. They sell only 100% New England made products and have a 67 foot long candy counter. It was very cool! We bought Tommy some gummy worms (his first ever) and another little kitty before waving goodbye to Thomas the Tank Engine from outside the store.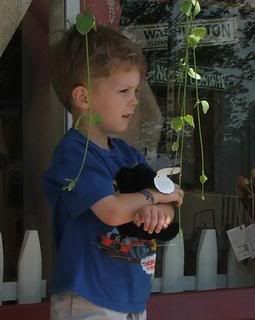 On Saturday we went to
Story Land
. There was so much there to see and play with that I can't even begin to cover it all. From the little nursery rhyme houses and play areas to the castles and boat rides... to the more traditional theme park rides and shows, we loved it. Two of our favorites were the raft ride and Professor Bigglestep's Laboratory. We went on the raft ride twice just to get soaked on a hot day. Water squirted out unexpectedly throughout the ride, so it was fun and funny. -The Laboratory was a big round building full of little foam balls flying every which way. There were two levels complete with many different types of machines designed for shooting out the balls. Tommy found one that sucked up the balls like a vacuum, and I went to the second level to shoot balls down at Brian. We stayed there for a while. =)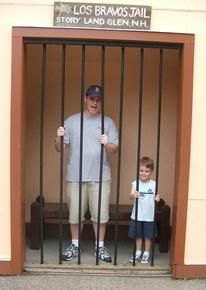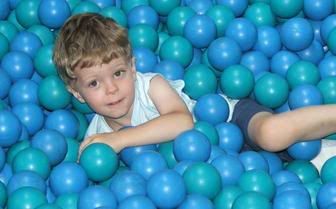 The original plan was to take the Mt. Washington Auto Road on Sunday, but we ended up taking a gondola skyride up
Wildcat Mountain
instead, where we had a nice view of Mt. Washington and Tuckerman and Huntington Ravines. We took lots of pictures before heading down and to play mini golf at
Pirate's Cove
and then back to the motel for more pooltime before a long drive down to Great Grandma's in Rhode Island on Monday.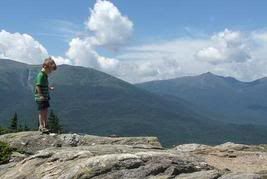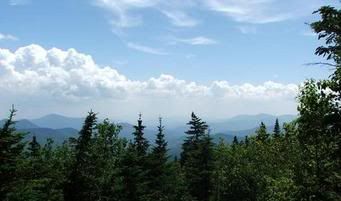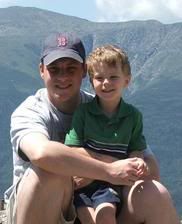 We don't get to see Brian's grandmother often, so we really appreciated the chance to visit. We all had dinner at a little Italian seafood restaurant, where Auntie Louie tried her first lobster - and liked it!
Grandma, Great Grandma, and Auntie Louie all offered to watch Tommy after dinner so that Brian and I could go to our first
Pawtucked Red Sox
game. We had great seats and were able to watch Wily Mo Pena play while on rehab and just before heading back out to Boston. We loved it and would be regulars if we lived in Pawtucket!

Of course we came home Tuesday and headed right back to work on Wednedsay, which was interesting enough as my car had been parked in the garage for a week and wouldn't start Wednesday morning. Thankfully it has been ok since, as Brian's car just ate up over $400 in brake maintenance. Ugh!

Now Tommy and I are off to New Hampshire again - this time for my Aunt Janet's wedding reception in southern New Hampshire. Then I think things will calm down a bit, but in the meantime, we have had some fun!